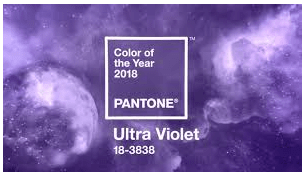 Drumrolls please: PANTONE 18-3838 Ultra Violet is Pantone's new Color of the Year! Since the provider of professional color language standards and digital solutions unveiled THE color shaping 2018, it is omnipresent online with lists presenting beauty products, fashion and interior decoration in this purple shade.
Ultra Violet is a color which means Inventive and imaginative, In chinese language , we call it"ZIWAIGUANG".a very beautiful name.
And come on, let us see Its performance on various fashion shows !
Valentino SS 2018
Saint Laurent / Halpern Spring 2018 Ready-to-Wear
Dior Spring 2018 Ready-to-Wear